Beard growth kit
Regular price
$111.00 USD
Sale price
$55.49 USD
Unit price
per
Sale
Sold out
 
Introducing our Beard Growth Kit - the ultimate solution for achieving a thicker and healthier beard! This kit has been a best seller in 2022 and continues to exceed expectations in delivering remarkable results.

Are you tired of struggling with a patchy or thin beard? Our Beard Growth Kit offers a unique 3-step process that revitalizes your facial hair and stimulates robust growth. Say goodbye to bald spots and hello to a fuller, more luscious beard.

The secret behind our Beard Growth Kit lies in its potent blend of active and natural ingredients. This powerful formula awakens dormant hair follicles, promoting accelerated growth and giving you the beard you've always desired.

Included in the package is a carefully curated selection of products designed to maximize results:
Derma-Roller
Our exclusive Derma Roller Beard product is meticulously engineered to invigorate hair follicles in the beard area. It jumpstarts the growth process, ensuring every follicle reaches its full potential.
Activator Serum
Formulated with a nourishing blend of natural ingredients, our Activator Serum provides essential nutrients to the hair follicles, enhancing their health and promoting optimal growth. With enriching components like ginseng, renowned for its hair wonders, this serum guarantees remarkable results.
Sanitiser
We prioritize your hygiene and well-being. Our included sanitizing spray keeps the derma roller clean and germ-free. Simply spray before and after each use to ensure a safe and hygienic experience.
Comb
Grooming is an essential part of maintaining a well-kept beard. Our kit includes a high-quality comb to help you shape and style your facial hair, ensuring it looks neat, presentable, and on point.

Using our Beard Growth Kit is easy:

1. Start by disinfecting the derma roller. Spray it 2-3 times with the included sanitiser and allow it to dry for 20 seconds.
2. Thoroughly rinse and clean your beard to remove any impurities.
3. Ensure your beard is completely dry before proceeding.
4. Roll the derma roller horizontally and vertically on the targeted beard area. Make 15 gentle passes in each direction, avoiding excessive pressure.
5. Next, massage the beard area with the Activator Serum, using circular motions to ensure even coverage and absorption.
6. For optimal results, repeat this process two to three times a week.

If you're on a quest for a fuller, more impressive beard, look no further than our Beard Growth Kit. We offer the best products to stimulate hair follicle growth, guaranteeing outstanding results. Don't miss this opportunity to transform your beard and elevate your style. Order our kit now and experience the incredible difference for yourself!

FAQ
Q: What does the Mr Beard growth kit contain?
A: The Mr Beard growth kit contains a derma-roller, activator serum, disinfectant, and comb. It's a comprehensive package designed to enhance your beard growth journey.
Q: Why should I choose the Mr Beard growth kit?
A: The Mr Beard growth kit stands out from the rest due to its unique 3-step process that effectively boosts beard growth. It is formulated with active and natural ingredients that promote the awakening and stimulation of hair follicles that are dormant beneath the skin. 
Q: How does the derma roller work?
A: The derma-roller included in the Mr Beard growth kit is specially designed to awaken your hair follicles in the beard area. By gently rolling the derma-roller over your skin, stimulates microcirculation and encourages the regeneration of hair follicles, leading to improved beard growth.
Q: What benefits does the activator serum provide?
A: The activator serum in the Mr Beard growth kit is a nourishing blend enriched with natural ingredients. It promotes hair growth by delivering essential nutrients to the hair follicles, improving their health and strength. With ingredients like ginseng, known for its wonders, the activator serum ensures remarkable results.

Q: How long does it take to see results with the Mr Beard growth kit?
A: Results may vary from person to person. Some individuals may experience noticeable improvements in beard growth within a few weeks of consistent use, while others may take longer. It's important to be patient and continue the regimen as instructed to achieve the desired results.
Q: Is the Mr Beard growth kit safe to use?
A: Yes, the Mr Beard growth kit is safe to use. It is formulated with active and natural ingredients that are known for their effectiveness and safety. However, always follow the instructions provided and perform a patch test if you have any specific concerns or allergies.
Share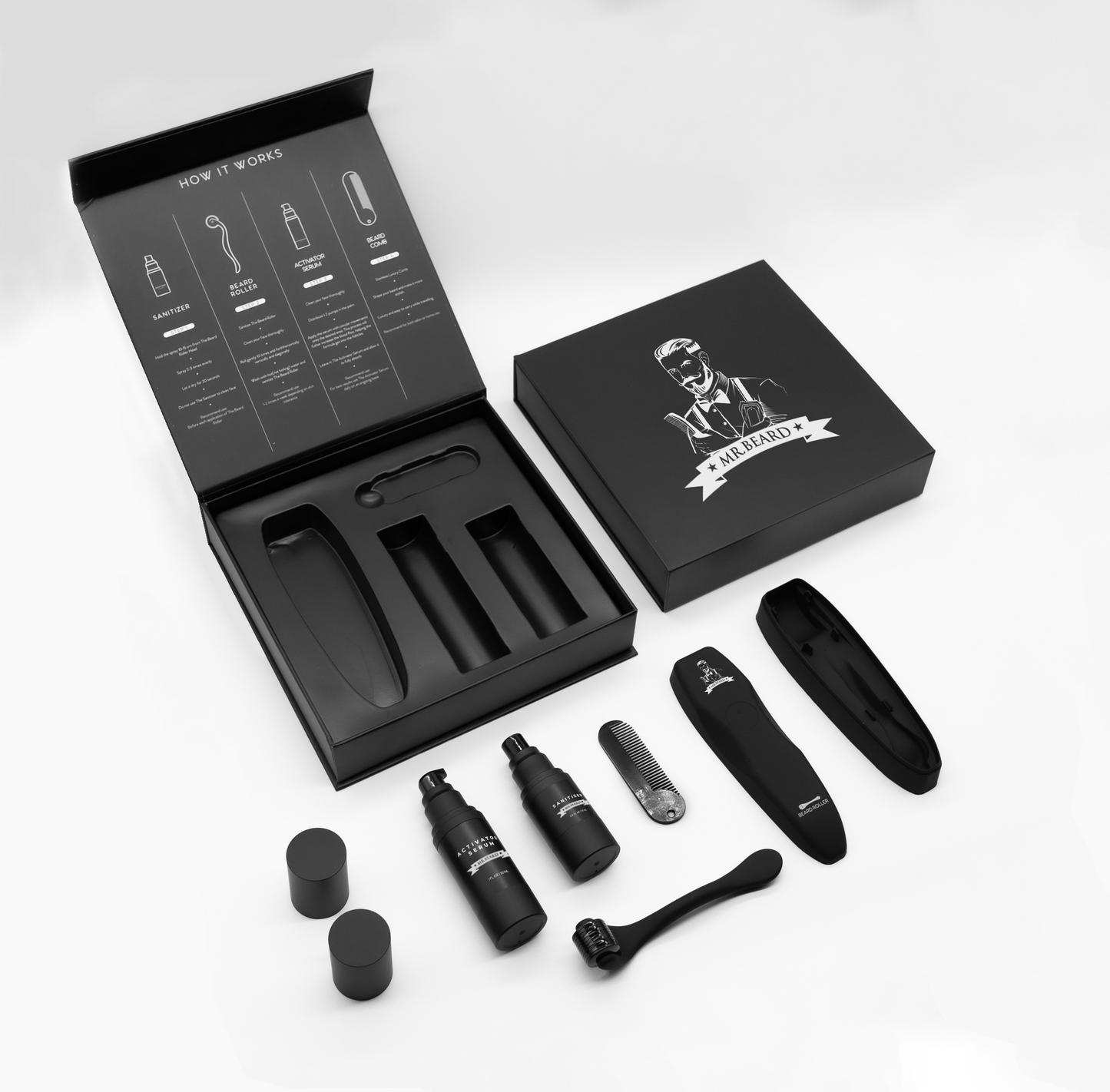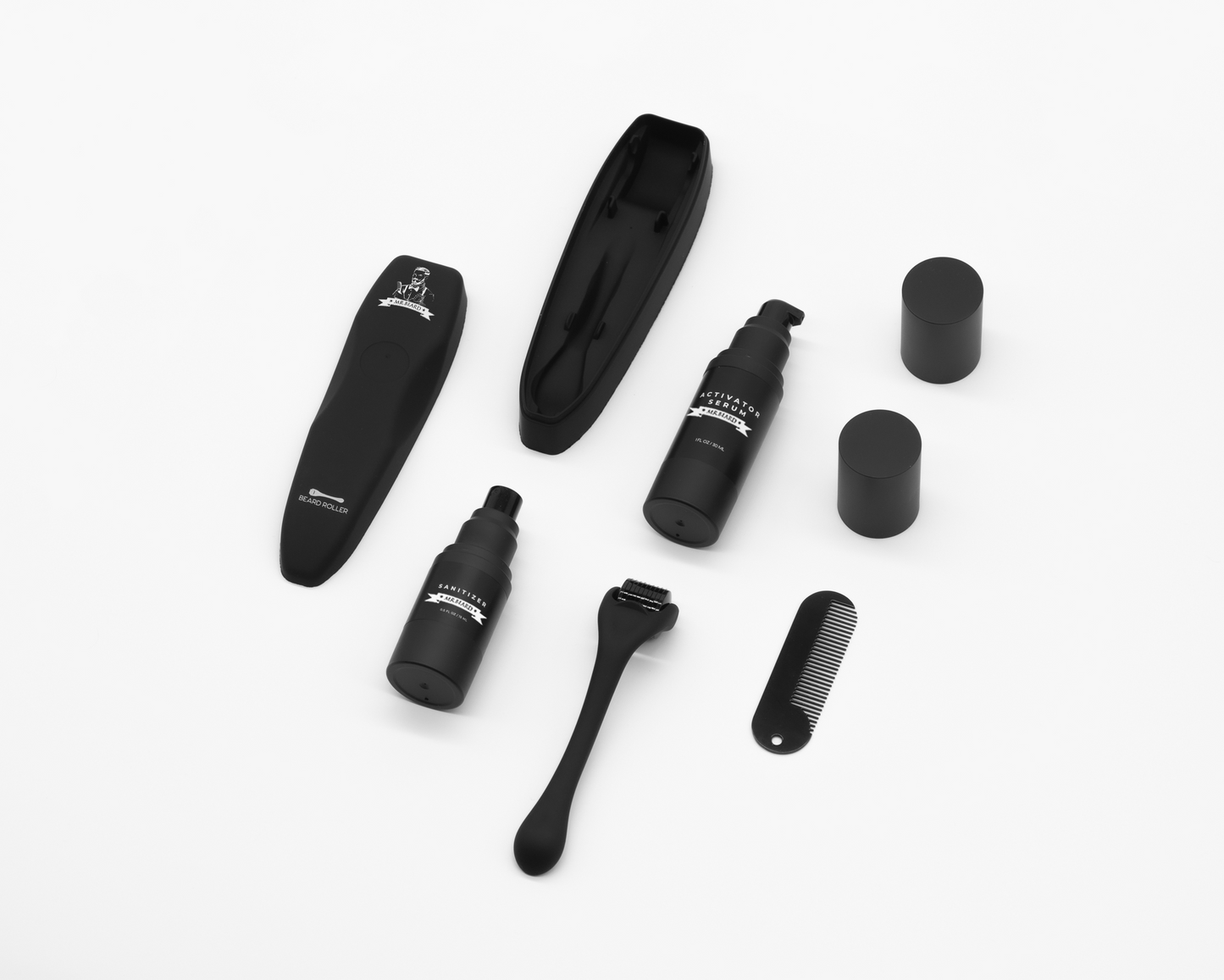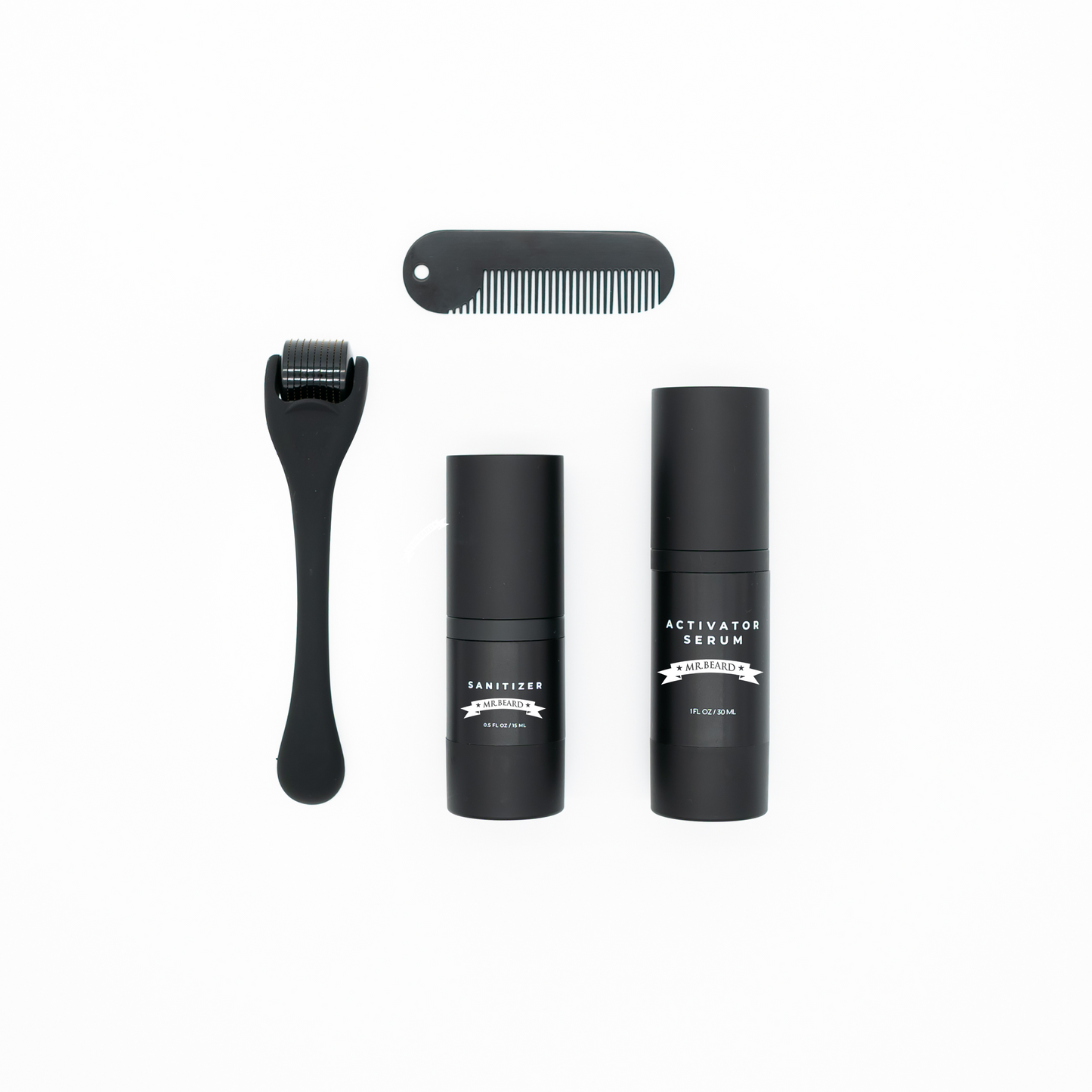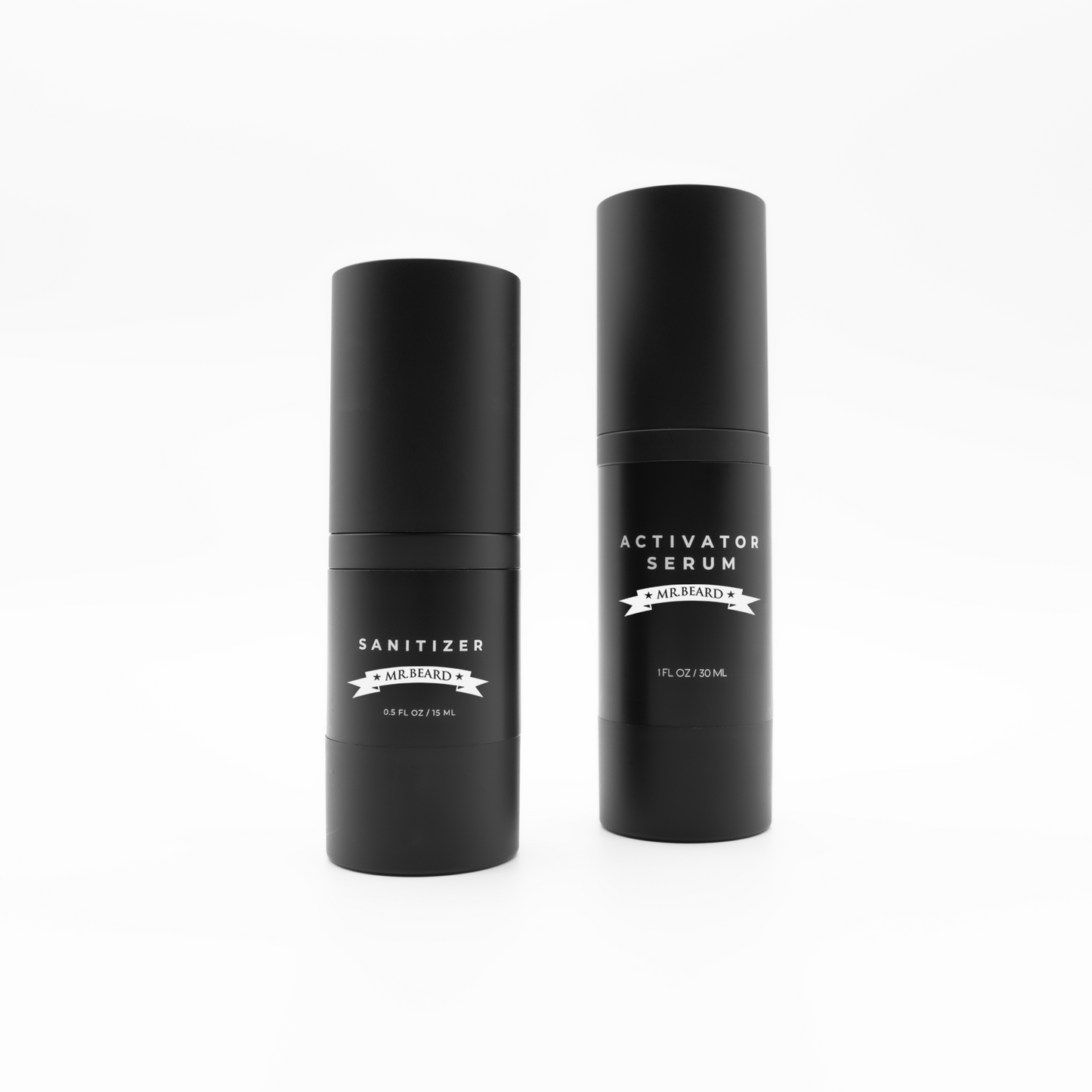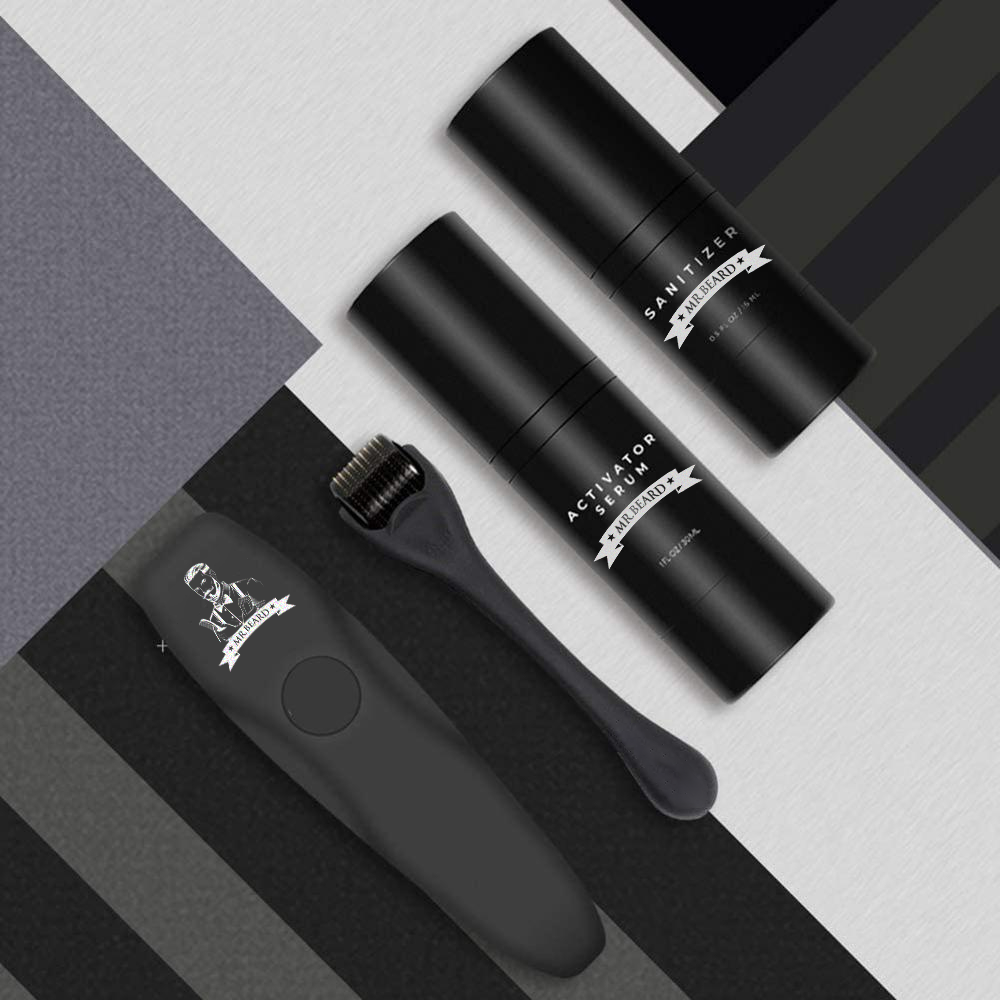 Skjeggvekstsett
Jeg har ikke fått ennå det tar så langtids for å komme?
Fantastic Beard Growth Kit!
I purchased the Beard Growth Kit from Mr. Beard Co. and I am extremely happy with the product. This beard growth kit has truly exceeded my expectations! Thanks to Mr. Beard Co. what a great product and an excellent experience!
Recommend!
Finally, I chose to try this kit after some of my friends had bought and were happy with it, I got results after only 2 weeks and continue to use it now, easy to use and I think the key to results is to use the kit regularly, further recommend this
It works
Anyone that is sceptical it doesn't work believe me it does and my photos are proof. The reason I'm sending photos is because I have seen a lot of people ask if it works for alopecia barbae and I can turn round and say yes it does
Above Expected
Have seen a lot of advertising about it recently and finally decided to try it. I am incredibly happy with the results, beard hair has started to grow in my bald spots and the beard finally looks smooth and full. I really recommend all of you out there who want more beard hair to try this and give it a try!